Thursday, January 14th, 2010 Professional Wrestling Video on Demand 24 hours a day at
www.ClickWrestle.com
ClickWrestle's German Stampede!

In the 80's stars like Great Muta and the original Tiger Mask turned heads by bring a Japanese flavor of Pro-Wrestling to the states. In the 90's stars like Eddie Guerrero, and Rey Mysterio Jr. showed American fans what Mexican Lucha Libre was all about. What is the next country to revolutionize professional wrestling? Well if you ask guys like Ares or Michael Kovac they'll likely tell you that the next country to do so is Germany, specifically the stars of German Stampede Wrestling. GSW has brought in stars such as Samoa Joe, Steve Corino, and Chris Hero to compete against their best. Fans of female wrestling can find the likes of Wesna bringing the violence to the likes of Blue Nikita, April Hunter, and Allison Danger. Only ClickWrestle can bring you this high-quality footage straight Germany to your computer.

ClickWrestler of the Week: ODB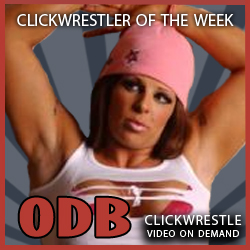 First look at ODB and she doesn't fit the mold the 'standard' mold of what a Diva should be, but that might be what makes her so entertaining. It can easily be argued that ODB has the most raw charisma out of all female wrestlers, it should also be noted that she also may be one of the most powerful and athletic. At ClickWrestle we have a collection of ODB's video's from all stages of her career, from her early days prior to her signing with WWE to matches that took place after her TNA debut.
Cheerleader Melissa & ODB vs. Jaime D & Amazing Kong

Daizee Haze vs. Mickie Knuckles vs. ODB vs. MsChif vs. Rain vs. Lacey

Wrestling Promoters - Make Money with your Footage
Are you looking for a new revenue source? Look no further than ClickWrestle as an exciting way to offer your wrestling footage to a world-wide audience. We make it easy for you to get started by offering a secure, easy to use system. ClickWrestle has been offering the best in professional wrestling footage online since 2001 and we welcome you to join our team.